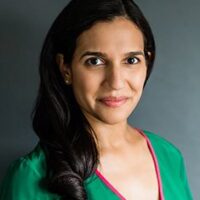 Kiran Ghia
Chief Strategy Advisor
With over 10 years of experience practicing international law and international human rights law, Kiran Ghia has worked with underserved populations around the world and has witnessed the injustice and inequities that plague resource-poor settings. She envisions a solution where all individuals have access to basic human rights—including the fundamental right to a high-quality education.
Ms. Ghia works to make this a reality through her role as Chief Strategy Advisor to the Global Teaching Project, where she works to bring advanced STEM courses to rural public school districts across Mississippi and other rural regions.  Ms. Ghia has worked closely with Mississippi public schools for the past 4 years, connecting students to critical resources and building enduring relationships within these communities.
Prior to her current role, Ms. Ghia served as Director and inaugural CEO of The Leadership Foundation of India, a non-profit organization that promotes educational opportunity for girls and supports the development of Avasara Academy, a secondary school and leadership academy for adolescent girls in India.  Ms. Ghia began her career as a Law Clerk to U.S. District Judge Reginald C. Lindsay of the U.S. District Court of Massachusetts and subsequently practiced law at a major international law firm where she represented foreign governments in U.S. courts. In addition to her international litigation practice, Ms. Ghia has represented several detainees held at the detention facility in Guantanamo Bay, Cuba, in the fight for their release.  She has also assisted numerous political asylum seekers secure legal status in the United States.
Ms. Ghia is a graduate of Yale College, where she graduated magna cum laude with distinction in History.  She also holds a JD from Georgetown University Law Center.  Ms. Ghia and her husband, Rahul Rajkumar, have three children, and currently live in Bethesda, Maryland.
Other Members