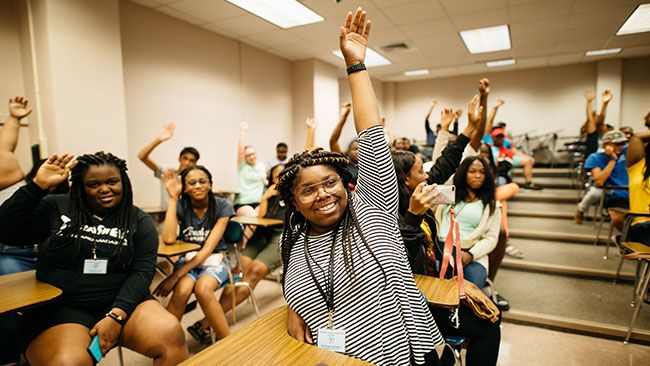 Dear Friends of the Global Teaching Project,
The emergence of COVID-19 poses major challenges for the educational community, and the world at large.  For the Global Teaching Project (GTP), COVID-19 has underscored the importance of robust virtual learning platforms and the importance of investing in our country's rural communities.  GTP remains committed to our mission of bringing high quality education to those who need it most, and we will remain connected through virtual platforms and other means as we work through this crisis.  Preparing the STEM workforce of tomorrow matters, now more than ever, and we will rise to the challenge—together.
Thanks to the hard work of our students and teachers, and the generous support of our funders and sponsors, the GTP and the Mississippi Public School Consortium for Educational Access (Consortium) have made significant progress in the 2019-2020 academic year, and have achieved unique success in bringing advanced courses to rural Mississippi:
Enrollment Growth: Our recruitment efforts, in addition to positive word-of-mouth among both educators and students has led to sharply accelerated enrollment growth—the number of students taking our AP® classes roughly tripled from last year.
Expanded Course Offerings: We expanded our course offerings in the current school year by launching a new class, AP® Computer Science Principles.
Reaching Rural, High-Poverty Districts: Among public schools serving the Mississippi counties with the 30 highest school age (5-17) poverty rates (out of 82 counties total), Consortium schools are the only ones that offer AP® Physics.
The Consortium stands out nationally as well.  The College Board authorizes 6,079 U.S. schools to offer AP® Physics 1, and 1,905 schools to offer AP® Physics 2.  Yet in the nation's 20 most impoverished counties (out of 3,142 total), Consortium schools are the only public schools in any state to offer either course.
University-Based Residential Programs: We successfully conducted five university-based residential programs for the 2019-2020 academic year—the summer program for Physics students at Mississippi State, the August training program for Computer Science teachers at Mississippi State, the January training program for Physics and Computer Science teachers at Delta State, the January program for Physics and Computer Science students and teachers at Millsaps and Jackson State, and the March session for Computer Science students and teachers at Mississippi State.
Academic Gains: Mississippi State University reported that students who attended the Consortium's summer residential program to prepare students for the rigor of AP coursework "achieved dramatic gains in substantive understanding of course content, according to nationally recognized pre- and post-program assessments utilized by the American Association of Physics Teachers.
Virtual Senior Day: Most recently, we hosted a virtual Senior Day to honor all participating seniors for their hard work and dedication to their coursework.  More than 150 students, parents, teachers, and administrators participated in our Senior Day program, which featured a prominent guest speaker, MIT Professor Rainer Weiss, winner of the 2017 Nobel Prize in Physics.
In recent weeks, we have transitioned our blended program online, conducting daily online instructional sessions.  Though we have faced challenges—including limited internet access in the rural communities we serve— they have been mitigated by our experience in providing remote instruction, and by the relationships that had been formed in-person among the students, teachers, tutors, and Supervising Instructors at our residential programs.
We are grateful for the support of our community and wish all of our students the best of luck on their upcoming exams.
Best wishes,
Matt Dolan
CEO, Global Teaching Project