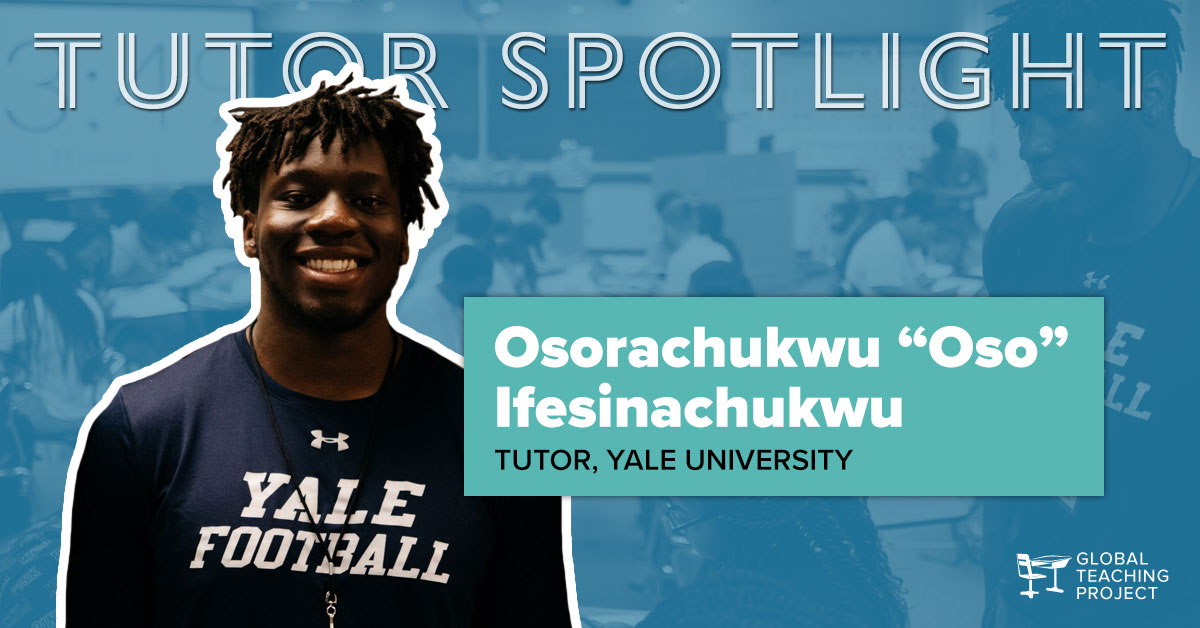 Teaching Assistants:
"Oso" Ifesinachukwu
A key element of the Global Teaching Project's blended learning model—which employs multiple means to engage students and facilitate learning—is the extensive tutoring provided by college STEM majors from leading universities around the country, such as Yale, the University of Virginia, Harvard, MIT, and Stanford. Those tutors work with students at the Global Teaching Project's residential programs, held for students several times a year at Mississippi universities (and virtually during the pandemic). The college tutors also provide instruction by video conference, often multiple times per week, to students throughout the year as part of our schools' regularly scheduled classes.
Yale University junior Osorachukwu "Oso" Ifesinachukwu has been a Global Teaching Project tutor since 2019, working with students from rural Mississippi both in-person at GTP's summer program and throughout the year by video conference.
Oso embodies all the qualities GTP looks for in its tutors. Focused, responsible, and bright, Oso is a true student-athlete—he majors in Biomedical Engineering major, while also playing a key role on Yale's nationally ranked, Division 1 (FCS) football team. Oso skillfully manages the demands of Yale's rigorous academics and challenging athletics, and he also brings his passion for STEM coursework to his tutoring sessions. Oso sets a wonderful example for his students, both in and out of the classroom, demonstrating maturity, commitment, and altruism.
The Global Teaching Project and its participating schools are grateful for the opportunity to work with Oso. We recently had the chance to connect with Oso during one of the rare gaps in his busy schedule.

---
Okay, let's get right to it – your amazing name.  How do you pronounce it and what does it mean?
Awe-soar-uh-chew-koo E-face-in-na-chew-koo. My first name means "God's will" and my last name means "All things come from God."
Where did you grow up?  What was your high school experience like? 
I grew up in Austin, Texas near the Lake Travis area. A pretty suburban area. In high school I went to a primarily white school which came with its own set of challenges being one of the few black kids in the school, and usually the only black kid in my class. I enjoyed my high school experience overall and it definitely taught me a lot.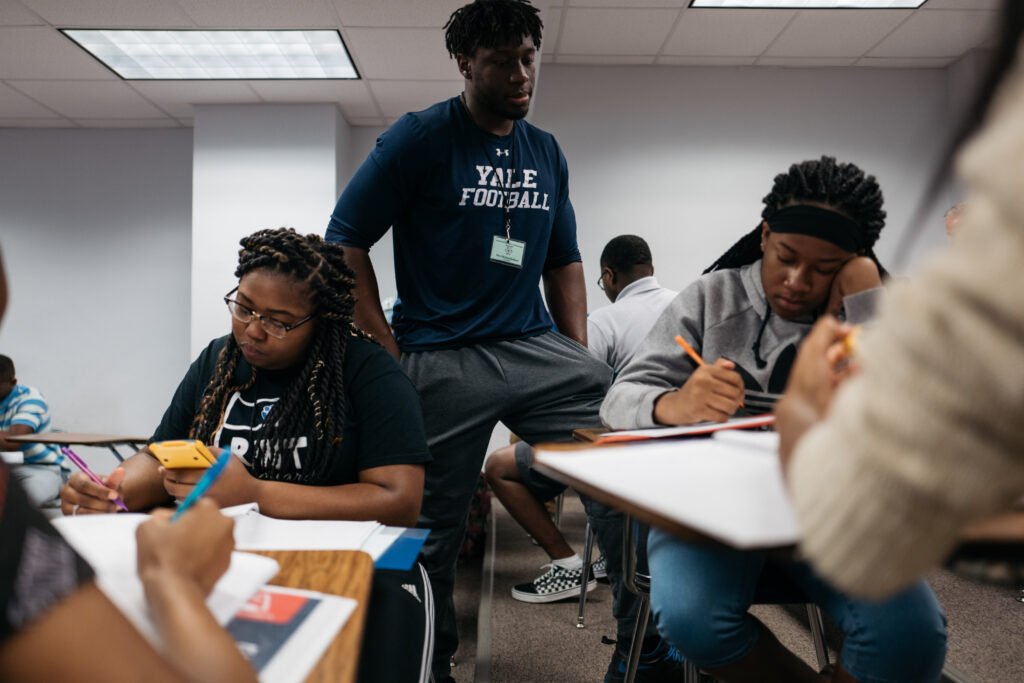 Why did you choose Yale?
I was offered to play football by Yale as well as some other schools but ultimately my decision to attend Yale stemmed from the freedom that Yale gives to pursue different interests. I am able to pursue academics, athletics as well as the arts at Yale.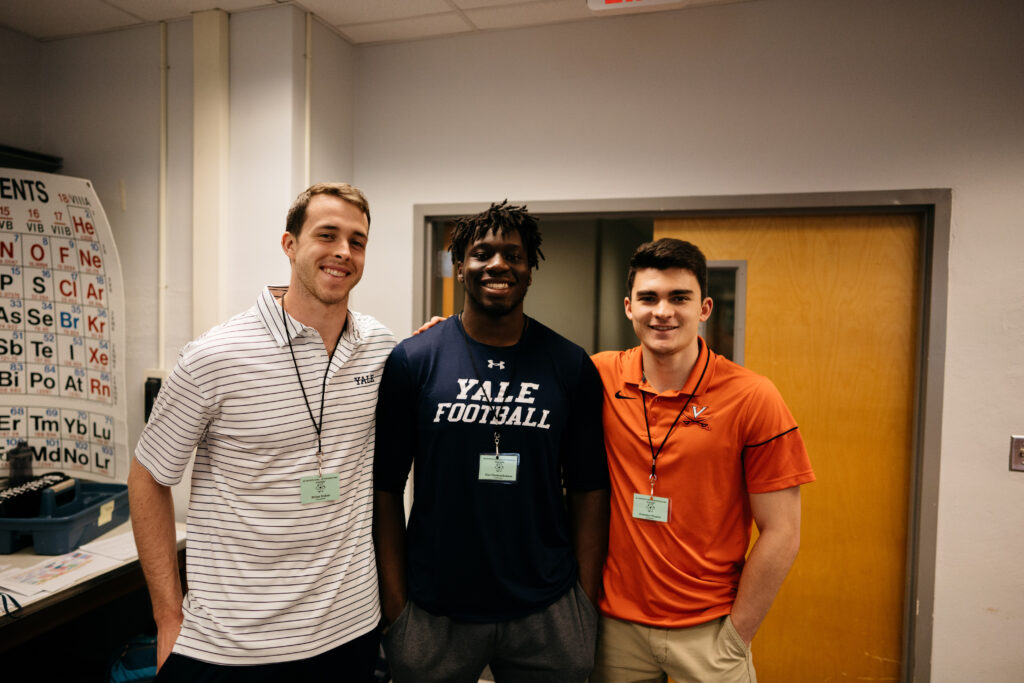 What is your major/minor and why did you choose it?
I'm majoring in Biomedical Engineering. I've always had an interest in engineering as well as medicine which probably stems from my parents. My mom is a doctor and my dad is an engineer and I felt that Biomedical Engineering would be a way to satisfy both those interests.
What got you interested in STEM in the first place?  
It's hard to pinpoint what exactly got me into STEM. I remember always being pretty good at math and enjoying STEM subjects more than English and history.  I always loved Legos growing up so I'm sure that led to my interest in engineering.
Tell us about your experience with the Global Teaching Project – what have been some of the highlights for you?
I first started working with the Global Teaching Project in the summer of 2019 at the summer program. I really enjoyed getting to work with the students and seeing how much their skill and confidence grew in physics. I enjoyed what Ms. Ghia and Mr. Dolan were doing so much I asked to continue working with them if the opportunity ever presented itself. Unfortunately this summer COVID has made it impossible to do in person classes, but I have still enjoyed being able to help the students in any capacity that I can.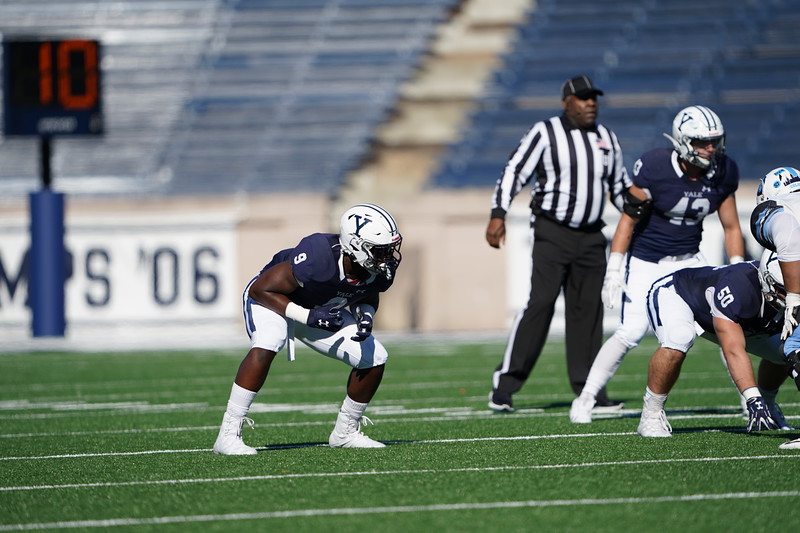 You play football at Yale, a Division 1 program.  How do you balance school, football, and your work with GTP?

It's definitely tough. Especially with a major like Biomedical Engineering which has a lot of work associated with it. Getting a schedule laid out and being disciplined with my time management helps me a lot. I don't have time to do as many extracurriculars as I would like but I wouldn't trade GTP, football or my academics for anything else.
This past semester I had to unenroll from Yale in order to retain eligibility for football. Next semester classes will continue to be virtual which is tough. There are also extensive regulations and safety precautions such as frequent testings, isolated rooms and dining areas. It definitely has hampered the social aspect of college but I'm grateful to still be able to get an education.

What advice would you give to high schoolers?
I would tell any high schoolers to try out new interests and hobbies while they have more free time. In college, at least in my experience, I've found that I have much less free time to explore what I like. Luckily I found a good blend of interests in high school, but I highly recommend learning new skills whenever you can.
What are your plans for the future?
I'm enrolling this next semester and continuing on studying Biomedical Engineering. I'm very excited.