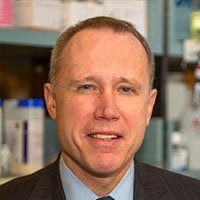 Professor Edward Ryan, M.D.
Harvard Medical School, Director of Edward T. Ryan Laboratory at Massachusetts General Hospital
Edward T. Ryan, M.D. is a Professor of Immunology and Infectious Diseases-Harvard School of Public Health, Professor of Medicine-Harvard Medical School, and the Director of Global Infectious Diseases, Massachusetts General Hospital, Boston, MA. Dr. Ryan's research is funded by the U.S. National Institute of Allergy and Infectious Diseases (NIAID) and the U.S. Centers for Disease Control & Prevention (CDC). Dr. Ryan is the principal investigator on research projects focusing on enteric vaccine and diagnostic development, including those based on host-pathogen studies on V. cholerae (the cause cholera) and Salmonella enterica serovar Typhi (the cause of typhoid fever). Particular areas of focus include the application of high throughput genomic, proteomic, immunoproteomic, and web-based platform technologies to these illnesses. Dr. Ryan has served on expert and advisory committees for the Institute of Medicine-National Academy of Sciences, U.S. Centers for Disease Control & Prevention, the US National Institutes of Health (NIH), and is a previous President of the American Society of Tropical Medicine & Hygiene (ASTMH). Dr. Ryan is a Fellow of the American College of Physicians, the Infectious Diseases Society of America, the ASTMH, and the American Academy of Microbiology, and has published over 150 peer-reviewed journal articles and book chapters on enteric infections, infectious diseases, vaccines, tropical medicine, and global health. Dr. Ryan is also the national director of the CDC-sponsored Global TravEpiNet Program, and Dr. Ryan's work has been cited over 4000 times (h-index 39). Dr. Ryan serves in editorial capacities for PLoS Neglected Tropical Diseases, Up-to-Date, the CDC Yellow Book, and is a Senior Editor of Hunter's Tropical Medicine, 9th Edition.
Dr. Ryan is a graduate of Harvard Medical School and Princeton University.