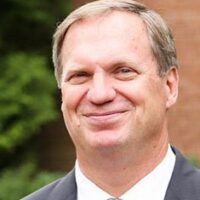 T.J. Fitzpatrick
Educator; Technology Executive
Thomas J. ("T.J.") Fitzpatrick is the Chief Operating Officer of The Global Teaching Project.
Mr. Fitzpatrick brings to his position over 25 years of experience as an educator and technology executive, including as Chief Executive Officer of an innovative technology start up, a senior executive in a major technology corporation, and, for over a decade, a high school English teacher.
After earning an MBA from Boston College, Mr. Fitzpatrick was signed to professional football contracts as a linebacker with the Dallas Cowboys and Miami Dolphins of the National Football League. Thereafter, Mr. Fitzpatrick commenced his business career in 1984 with Xerox in sales. In 1986, Mr. Fitzpatrick began a highly accomplished tenure with Nortel, where he remained, but for a brief stint with Octel Corp, through 2000.
At Nortel, Mr. Fitzpatrick rose rapidly, being promoted eight times in 12 years. From 1986 to 1997, he served in a variety of sales, marketing and general management positions at Nortel Networks, in locations both in the US and abroad. From 1997 to 2000, Mr. Fitzpatrick served as President, Enterprise Voice Systems, for Nortel Networks in Santa Clara, CA; in that position, he was accountable for $2 billion in revenue with global Profit & Loss management of 5,000 employees worldwide.
After interviewing with Larry Page and Sergey Brin for the position of inaugural CEO of Google, Mr. Fitzpatrick was recruited by Promod Haque of Norwest Venture Partners and Vinod Khosla of Kleiner Perkins Caufield and Byers in 2000 to become CEO of Valiant Networks, an early-stage startup with $26 million in seed funding. Mr. Fitzpatrick transitioned the company from a "boutique" consulting practice with two customers and $200,000 in revenue to twenty customers and $5 million in his first twelve months. After completing his tenure with Valiant, Mr. Fitzpatrick and his family returned to the Washington, DC area, where he earned teacher certification from the University of Virginia and transitioned to a career in education.
From 2003 to 2014, Mr. Fitzpatrick was a full-time high school English teacher and varsity football coach at Bishop Denis J. O'Connell High School in Arlington, Virginia. While at O'Connell, Mr. Fitzpatrick taught several courses, including AP English Literature and Composition. Mr. Fitzpatrick continues to be active in education in various volunteer capacities, including the English National Honor Society.
In 2016-2017, Mr. Fitzpatrick served as Chief Operating Officer of the Global Teaching Project.
Mr. Fitzpatrick has a B.A. degree in Communications from Villanova University, and an MBA in Organizational Studies from Boston College. He attended both universities on a full football scholarship, completing his eligibility as a Business School student at Boston College. Mr. Fitzpatrick also is a graduate of St. John's College High School in Washington, DC, where he is a member of their athletic Hall of Fame as a basketball player. Mr. Fitzpatrick and his wife, Sue, reside in Virginia and have three children.