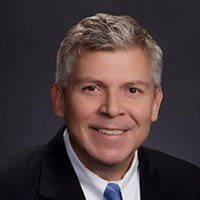 William Reyes
Reyes Holdings
Bill Reyes is a senior executive with Reyes Holdings, which distributes food, foodservice products, and beverages across 19 countries. Annually, the company delivers over 900 million cases of high-quality food products and beverages from 140 warehouses in North America, Europe, Central and South America, Asia Pacific, the Middle East, and Africa. Reyes Holdings is the 11th largest privately held company in the U.S., with more than 18,000 employees and annual sales in excess of 24 billion dollars.
Prior to his current position, Mr. Reyes served 10 years of active duty in the U.S. Marine Corps, and 12 years in the Marine Corps Reserves. Mr. Reyes served four overseas tours, reaching the rank of Lieutenant Colonel. An attorney, Mr. Reyes is an experienced litigator with over 200 contested trials as both a prosecutor and defense counsel. In 2008, Lt. Col. Reyes completed his tour of duty with a Presidential-directed Counter-Terrorism Task Force, which included tours in Iraq and Afghanistan. Prior to his deployment with the Counter-Terrorism Task Force, Mr. Reyes was Special Counsel to the General Counsel of the Department of Defense. He also held the position of Chief of Staff to the Assistant Secretary of Congressional Affairs for the Veterans Administration. Earlier in his career, Bill was a federal prosecutor in the Eastern District of Virginia and worked as a Congressional Legislative Assistant.
Mr. Reyes holds a Doctor of Jurisprudence from the University of Pennsylvania School of Law, where he was Associate Editor of the International Law Journal. Mr. Reyes also is a Dean's list distinguished graduate of Marquette University with a Bachelors degree in History and English, and an honors graduate of the Marine Corps University with a Masters degree in Foreign Affairs. Mr. Reyes is a member of the Pennsylvania Bar and the U.S. Court of Appeals for the Armed Forces Bar.
Mr. Reyes resides with his wife and daughter in Maryland.