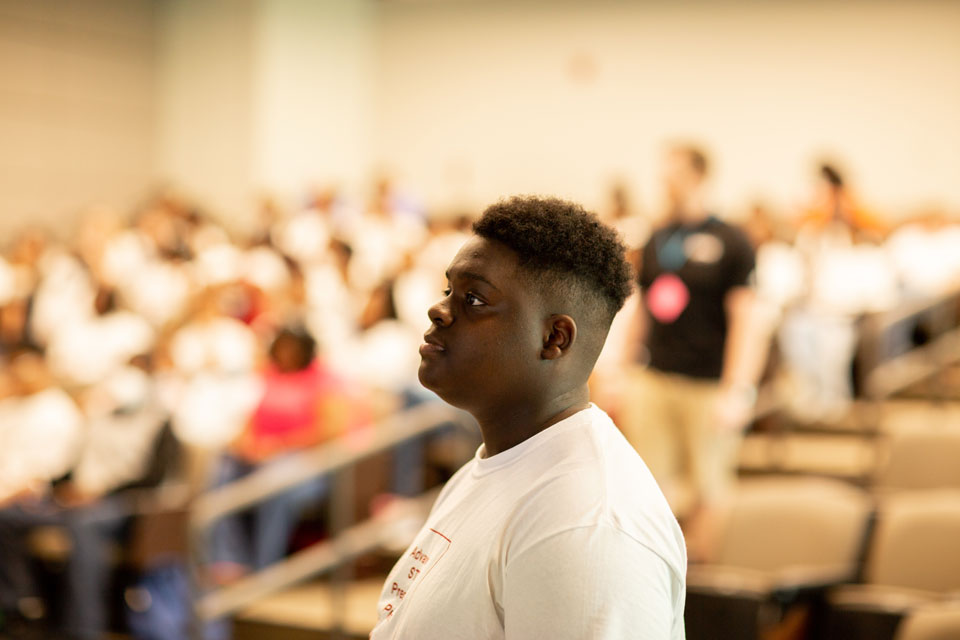 University Study Confirms HS STEM Program's Impact
A study by the University of Mississippi Center for Research Evaluation (CERE) has found that high school students in the Advanced STEM Access Program—implemented by the Global Teaching Project in collaboration with a consortium of rural Mississippi public school districts— achieved significant, quantifiable benefits during its most recent Summer residential program.
The CERE study, funded by the U.S. Department of Education, found that the Advanced STEM Access Program increased student knowledge of substantive content during the residential program, boosted some students' assessments of their own capabilities, focused academic ambitions, and helped students establish relationships with high-achieving peers across the state.
The Global Teaching Project's Advanced STEM Access Program, now in its fifth year, mitigates the disparate access to rigorous, college preparatory classes that greatly impedes the progress of potentially high-achieving rural and underserved students.
The Program provides promising high school students from rural Mississippi access to rigorous STEM courses they need to achieve their full potential, but which their schools otherwise would not offer due to financial and staffing constraints. All school districts that participated in the Program in 2020-2021 were classified as "Rural, Low-Income School Districts" by the U.S. Department of Education, and serve some of the nation's most impoverished communities.
Currently, the Advanced STEM Access Program offers AP Physics 1, AP Computer Science Principles, and AP Biology to over 400 students across 28 schools. The AP courses prepare students for college rigor, enhance admission prospects, and can reduce tuition costs by enabling students to earn college credit prior to matriculation.
The CERE study, presented in draft form in September 2021, based its findings on sequential tests from the 2021 Summer residential program that measured gains in students' substantive knowledge, as well interviews with, and group discussions among, Program participants, including both students and educators.
The CERE study concluded:
Students are remarkably favorable in their assessment of the program—including its implementers—and its benefits. There is evidence of short-term outcomes for students (i.e., score increases in Summer 2021) and self-reported increases in interest and engagement. Students surveyed indicated that the program is beneficial and successful as is, which corroborates student feedback in interviews in 2020 and early 2021.
Further CERE findings included:
"The students who participate in this program are highly motivated and committed to academic excellence. The program contributes to and supports their goals of rigorous education, as evidenced by feedback in interviews and surveys."
"Students surveyed reflect a confidence in and commitment to their schoolwork."
"Students were overwhelmingly positive about the program….Students referenced several highlights, including teachers, tutors and GTP staff; hands-on experience and new and different opportunities."
CERE's favorable conclusions on Program efficacy were supported by numerous data points:
Students who attended the 2021 summer residential program at Mississippi State University that prepared students to take AP Physics 1 in the 2021-2022 academic year achieved statistically significant gains in sequential assessments conducted at the Program, including substantial increases in mean, median, minimum, and maximum scores.
"Two thirds [of 2020-2021 students surveyed] reported feeling very connected to the GTP community".
Student assessments of their own abilities increased sharply, as did their interests in STEM studies, activities, and careers.
CERE also noted continued challenges to the Advanced STEM Access Program, and presented several recommendations, which the Global Teaching Project is acting to implement.
For example, CERE recommended more professional development for the in-class instructors who implement Program lesson plans, more guidance for tutors, and enhanced communication among all participants. CERE also suggested that using more tutors from Mississippi—the largest sources of tutors to date have been the University of Virginia, Yale, and Harvard—may help promote student engagement.
In response, the Global Teaching Project is expanding professional development opportunities, supporting a new, university-based teacher liaison position that has been filled by a highly successful Mississippi-based AP STEM instructor, increasing tutor supports, and hiring numerous Mississippi residents as Program tutors.
CERE will continue to assess Program efficacy throughout the 2021-2022 academic year, and will episodically report its findings. In turn, the Global Teaching Project will continue to use those findings to refine the Advanced STEM Access Program to help promising students in rural, underserved communities excel academically and achieve their full potential.

For further information, please contact Matt Dolan, CEO of the Global Teaching Project, at
matt.dolan@globalteachingproject.com.