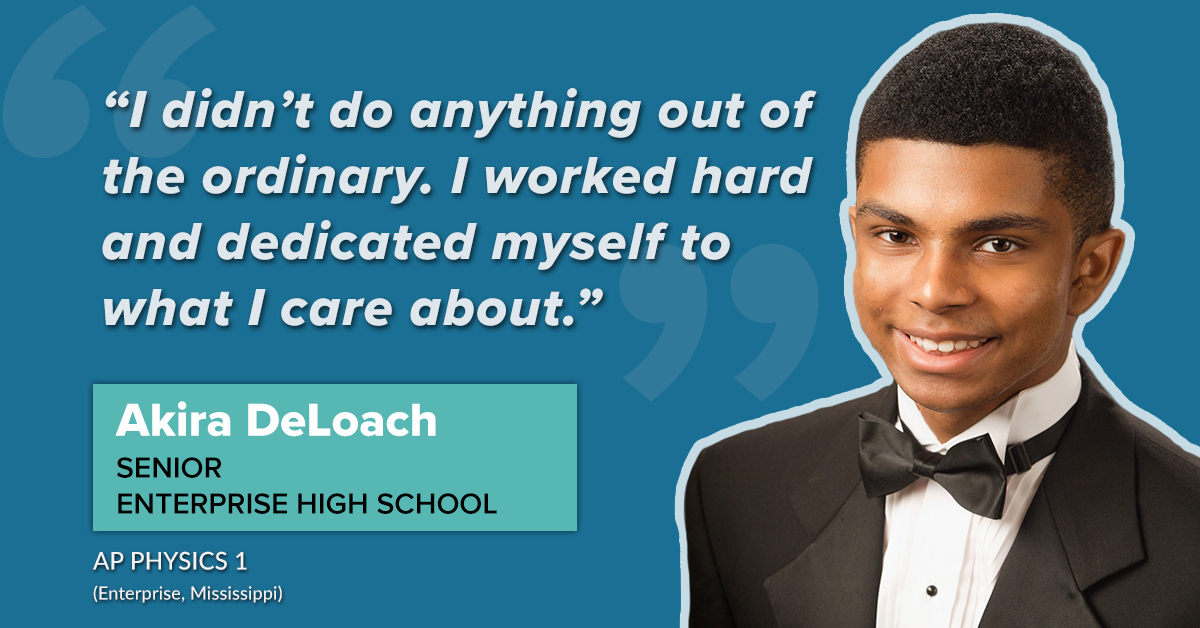 Student Spotlight: Akira DeLoach Admitted to MIT
Akira DeLoach, a senior at Enterprise High School in rural Mississippi and a student in the Global Teaching Project's AP Physics 1 class there, has earned admission to the Class of 2026 at the Massachusetts Institute of Technology, where Akira plans to major in Mechanical Engineering.
Akira's achievement is extraordinary—MIT is widely regarded as the world's top university for both Math and Science, and MIT admissions are highly selective. Last year, over 33,000 of the world's best STEM students applied to MIT, but only 1,365—just 4.1 percent—were admitted. The admissions rate for Akira's class will be even lower if long-term trends persist.
Akira, a lifelong resident of Clarke County, has never been to Massachusetts, but he researched MIT, learned about the extraordinary opportunities it afforded, and resolved to do what it takes to earn admission—and he did.
Akira recently spoke about his academic success with the Global Teaching Project's Canaan Harris, who also is a lifelong resident of rural Mississippi who earned admission to highly selective universities, including Stanford and Yale. Canaan graduated from Yale in 2020, becoming the first member of his family to earn a college degree. Ms. JoEtte Smith, a Science Teacher at Enterprise and mentor to Akira, also joined the conversation, as did Matt Dolan, CEO of the Global Teaching Project.
Akira, who is projected to be Enterprise's valedictorian, stated that he adhered to a simple formula for success: "I didn't do anything out of the ordinary. I worked hard and dedicated myself to what I care about."
Akira further explained this approach to mastering challenging subject matter, "I recommend starting small and developing a base of knowledge. Find out what you're good at and what you're bad at. Then start asking yourself, 'What am I struggling at? How can I improve?'" To do so, "I would take practice tests, understand what I got right, and what I got wrong, and see if there are any skills or concepts I need to get better at."
As a sophomore when COVID-19 struck, Akira faced the challenge of rapidly transitioning to a virtual classroom. However, his commitment to learning did not diminish. Ms. Smith, who taught Akira in the 9th and 10th grade, recalled that, while overall class attendance dwindled, Akira's dedication to the class was "excellent. If we had a zoom meeting, he would be there." Akira noted, "I changed the setting of where I did the work, but my work ethic stayed the same."
Akira's diligence earned him top grades and nearly perfect standardized test scores. Yet it also created a problem—he exhausted the course offerings at Enterprise, which, like much of rural America, faces acute teacher shortages, and does not have teachers for Physics and other critical subjects. Akira had the aptitude and work ethic needed to excel academically, but he lacked access to advanced STEM courses he needed to achieve his full potential, and to prepare for the rigor of schools like MIT.
The Global Teaching Project provides Akira the means to do just that. Through GTP, Akira is able to take AP Physics, and work with high-achieving high school peers from across the state, as well as exceptional college STEM major Teaching Assistants from schools such as Virginia, Yale, Southern California, and Vanderbilt. Akira has particular praise for his primary tutor, Cal Ries, a recent graduate of Virginia, where Cal studied Physics and Computer Science. Akira said his sessions with Cal are "going really great. He is an excellent tutor, and I enjoy working with him."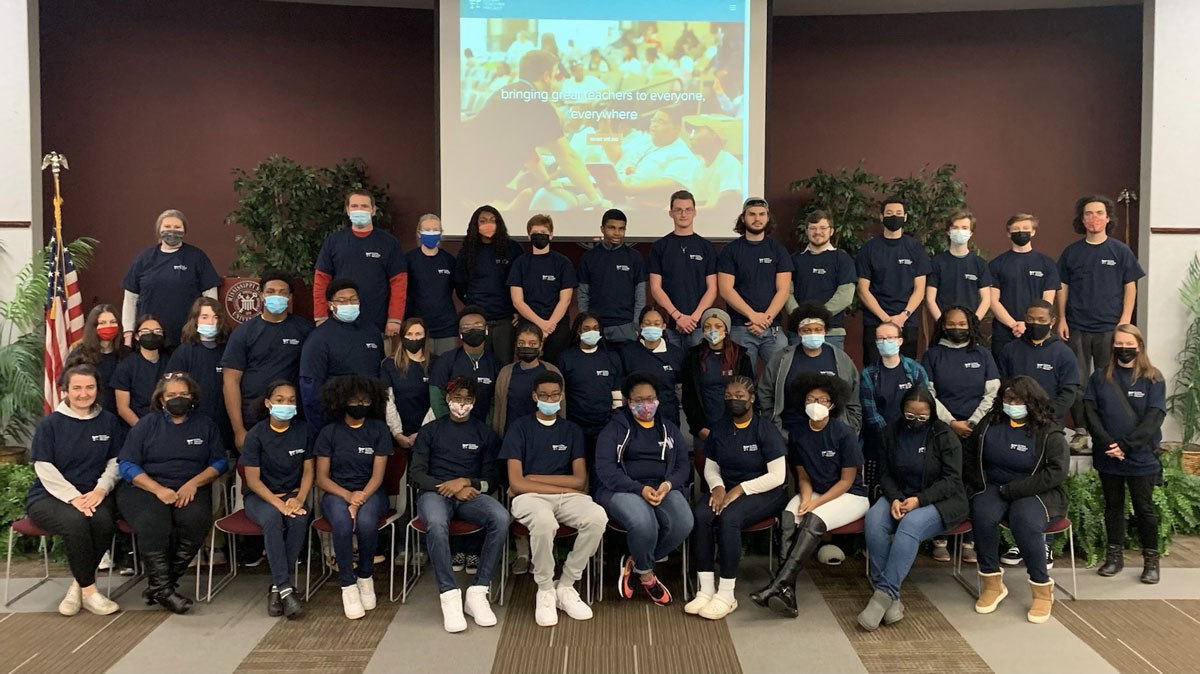 The Global Teaching Project also enabled Akira to attend a Physics program GTP conducted at Mississippi State University that was staffed by experienced, AP-certified Physics teachers, as well as by Teaching Assistants from universities around the country. At the Mississippi State program, Akira noted, "We had quite a few Physics labs, balancing forces, harmonic motion" and conducting various experiments.
Ms. Smith, who continues to work with Akira, stated that the Global Teaching Project effectively addressed a critical need. "I think it is a great program, particularly for a small school like here that isn't fully staffed in all subjects.
The Global Teaching Project is very grateful for the opportunity to work with students like Akira and educators like Ms. Smith. Our experience at Enterprise, and at other schools throughout rural Mississippi, has emphatically affirmed the Global Teaching Project's premise—every community has promising students capable of excelling academically, even in rigorous courses, if provided quality instruction and sufficient supports.
We look forward to continuing to help prepare Akira for MIT, and we are committed to help other emerging scholars in rural communities around the state achieve their full potential.
For further information, please contact matt.dolan@globalteachingproject.com.